In a benevolent act of kindness, Nkↄsoↄhemaa of Nsuontem, Nana Adwoa Amankwaa Pam I, has extended her support to Nsuontem D/A Basic School, located in the Afigya Kwabre North district of the Ashanti region. The school received a donation from Nana Adwoa Amankwaa Pam I, encompassing essential items to aid the educational development of the students.
The items donated to the school included sanitary pads, mathematical sets, pens, pencils, and erasers. The headmaster of Nsuontem D/A Basic School, Mr. Seth Asare, gratefully accepted the donation on behalf of the school. He expressed his heartfelt appreciation for Nkↄsoↄhemaa's generous gesture, which will undoubtedly benefit the students' learning experience.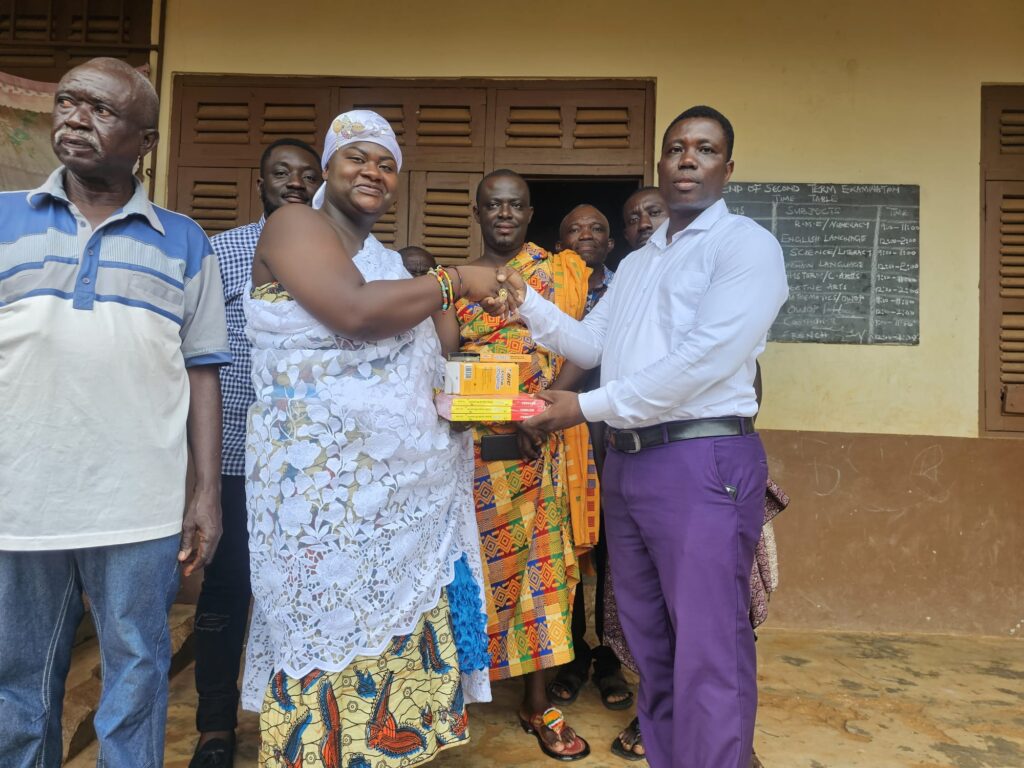 During the event, Okyeame Amoako, the Parent-Teacher Association (PTA) chairman of the school, expressed astonishment at Nkↄsoↄhemaa's concern for the school's welfare. While appreciating the donations, he also conveyed a request for additional resources, such as library books, paint, and burglar-proofing, to further enhance the learning environment.
The students themselves were thrilled to be beneficiaries of the donated items, sharing their joy and gratitude for Nkↄsoↄhemaa's thoughtful support.
Nana Adwoa Amankwaa Pam I, Nkↄsoↄhemaa of Nsuontem, explained the purpose of her visit to the school, highlighting the significance of menstrual hygiene education for girls. Her visit emphasized the importance of supporting young girls in their educational journey, ensuring they have access to the necessary resources to stay focused and thrive in their studies.
This charitable act by Nkↄsoↄhemaa demonstrates her commitment to promoting education and supporting the growth and well-being of the students in Nsuontem D/A Basic School. Her thoughtful donations will undoubtedly leave a lasting impact on the school community, fostering an environment conducive to learning and empowering young minds to achieve their full potential.
As the community comes together to celebrate this act of generosity, the Nsuontem D/A Basic School expresses its sincere gratitude to Nkↄsoↄhemaa and looks forward to continued collaboration and support in their educational pursuits.
Story by Kaakyire Akua Pokua/ fishfmonline.com